OVER TWENTY-SIX YEARS IN THE INDUSTRY
Our story starts on a kitchen table back in 1992.
Larry Kendall and his family were custom pinning some adapters needed for a cabling job being done by their installation company (Midwest Computer Cable). Without a reliable source to secure the needed product, and a Christmas Eve spent finishing the job, Kendall founded Quiktron in Albia, Iowa to deliver the high-quality assemblies he was struggling to buy.
Literally growing and expanding every single year, Kendall welcomed Mike Maddison and Steve Rockwell as early partners to help build the company. Sherri Griffin was hired to manage the production facility and quickly led the team to new heights. The goal of delivering unequaled customer service guided every decision.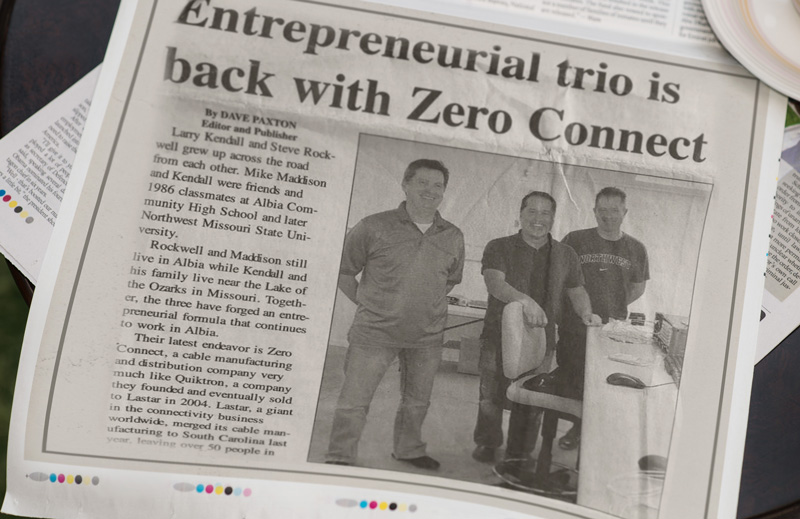 After growing Quiktron into a national leader it was sold to an Ohio company with the promise that Albia would be the home. A few more successful years led to the second sale of Quiktron to a much larger foreign company. As is often the case, things were looked at a little differently. The decision was made to close the Albia production facility which left a bunch of hard working highly skilled assemblers out of work.
The original owners of Quiktron invested in a state of the art production facility, purchased new equipment, and are providing jobs for many of these workers at Zero Connect. Our belief is that we have the best cable assembly crew in the entire United States. We are now offering the same services you came to know us for with even better tools. The proverbial problem has led to opportunity.
More recently, Jeff Van Polen reunited with Kendall, Maddison, Rockwell and the Zero Team as a partner bringing with him his engineering degree, RCDD, and 25 years of cabling experience. Now, with hundreds of years of experience on the floor, and in the office, we have been there and done almost every fiber and copper connection product made. Heck, we have even invented a few over the years… 26 years in the business and counting.
Zero Connect has quite possibly, the most experience per worker of any Cable Assembly House in the world.